21-09-46 - 17-07-16
On the 17th our world here at Lapema was absolutely rocked by the very sudden, yet peaceful passing of the Lapema founder, owner, my Mum & best friend in the world Pamela Wilkinson. I now know the meaning of true loss & pain. The dogs were mine & Mum's outlet, our hobby, our joy, our sadness, our everything, so to have to go it alone without my sidekick & partner in crime is devastating. Things will never be the same again but I know that we must carry on & do Mum proud whatever it takes. Lapema is now Mum's legacy & she was such an amazing woman that I will not & cannot ever let that be forgotten. I miss you Mum every single day, you were & are still my world & I hope that wherever you are, that you have some peace & can be free from the pain that life dealt you, although strong & selfless & I probably didn't say it enough when you were here, I know at times you struggled & I hope you can now find the peace that you deserve. I love you Mum, everything I do is now in your honour & memory.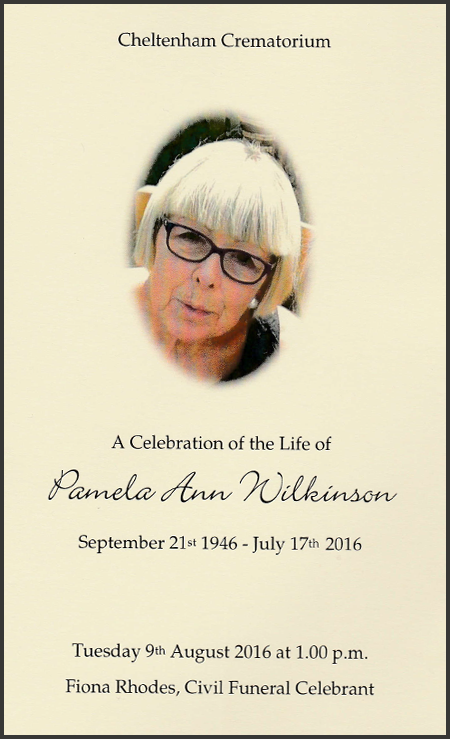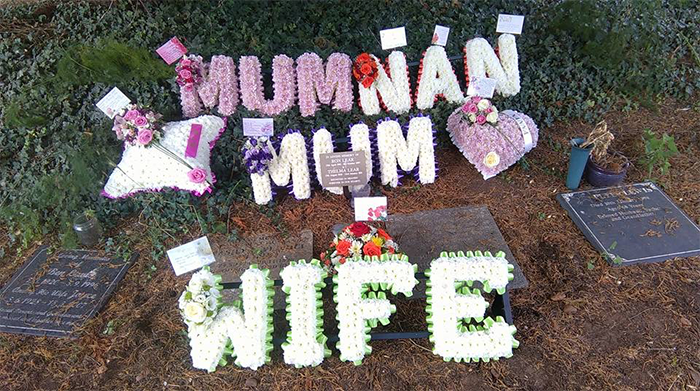 The following is a piece printed in the dog press Our Dogs
Pamela Ann Wilkinson
(Lapema) 1946 - 2016
'Pamela Wilkinson passed away suddenly, but peacefully whilst be watched over by her daughter, Kerry Jelfs, after a sudden admission to hospital, following a fall a few months ago from which she never really recovered.
Pamela co-owned the Lapema affix with Kerry for their Alaskan Malamute & Labrador kennels, naturally the whole family has been totally shattered by her passing.
Born & raised in the East End of London from the Elephant & Castle, life led her to the Midlands where she made her home & her kennels with the support of her family.
Pamela had been involved in the dog show world for near on 30 years. Firstly, with her young daughter Kerry, who started out on the fun dog show scene with their pet Boxers & Rottweilers for days out. In the late 80's they took more to the Champ & Open show scene accompanied by the 'chauffeur' & general dogsbody, Pam's husband Patrick. Here they tried their hand with the Rotties & Boxers, being mainly Fantasa, Kitwe, Lynpine & Witherford lines.
It was Pat Withers (Witherford) who introduced Pamela to Gwen Broadley of the world famous Sandylands Labrador kennel where a great connection was made & Sandylands to this day run very strongly in the Lapema Labrador pedigrees. Pamela bred one of her females, Jimjoy Topaz at Lapema, to Ch Sandylands My Guy in 1995 producing a very special litter including Lapema's Leo of Sandylands & Lapema's Larry of Sandylands who were bought into the Sandylands kennel by Mrs Broadley & Mr Anthony, who continued a friendship & to this day Pamela was firm friends with Erica Jayes.
Leo gained his stud book number in 1997 under valerie Fosse at Leeds & a CC under Peter Palmer at Driffield. Larry was sold as a junior to Franco Barberi (Loch Mor) in Italy & sired the fabulous Multi Ch. World Winner Amber. Larry continued to be very influential in the Loch Mor pedigrees. Encouraged, Pam & Kerry having recently been hitting the show circuit with their homebred Labradors & very much enjoying the experience with some nice results.
Pamela judged occasionally but it never really gave her the same buzz that the exhibiting did & she decided that judging really wasn't her bag so she concerntrated her energies on the shwoing, where she had moderate success with her Akita's, then she got the Spitz bug! However, still not completely satisfied she researched the Alaskan Malamute & found her niche within that breed. Although Pamela & Kerry had always shared a passion for the dogs, Kerry generally stayed in the background, just helping out with her husband Mike. When Pamela became disabled & more Malamutes were added to the show team, she handed the reins to Kerry, and was happy & proud to watch her blossom, lending a hand occasionally with handling if she felt able & never being too far away from ringside teaching Kerry everything she knew. Pam also supported Kerry to push herself for CC's which she will be giving for the first time in 2017. They did everything together, Pam even attended jedging seminars just to support & be with Kerry.
Pamela's beloved foundation pair of Malamutes were imported in 2003 & 2004. First to join her in 2003 was 'Fibi' Multi BVIS / RBVISS / RBIS Gorkeane De Jungla Negra Imp Esp who accumulated a CC & five RCC & prior to ticket status 10 x BB & 8 x RBB. The following year 'Rafa' BVISS / RBISS / BVIS Gwinner Lapema Star De Jungla Negra Imp Esp ShCM ROM entered the country collecting 2 ccs, BOBs, a WG2 at Boston Champ in 2009 under top all rounder Brenda Banbury, 3 RCC & prior to CC allocation 7 x BD & 14 RBD being jointly handled by Pamela & Kerry.
Rafa is still leaving his legacy by continuing to be very strong in the pedigrees of some quality dogs doing very well on both the show & working circuits. Since then Lapema has grown & received some fantastic resulots with theie mostly homebred team seeing them gain numerous stud book numbers, best of breeds, best puppies, CCs, RCCs, JWs & some excellent placings under a huge variety of judges. Pamela was immensely proud.
Pamela's eldest daughter Danielle & her granddaughter Charlotte said; 'As a daughter & granddaughter we were very lucky to be blessed with a Mum & Nanna who was strong & independant woman with high standards & morals. She was someone I would turn to in times of need, she would always give great advice, you knew she would be true & honest. She could put any situation into perspective, in my darkest moments she helped me to be strong & get through to the other side, to become stronger. when one door closes, another one opens, everything happens for a reason, believe in fate. That I was able to do anything & I was good enough. She taught me right from wrong, guided me to be a true & honest person, to take pride in myself & all I did, she showed me that you could stand up for yourself & what you believed in, to speak up & not allow anyone to put you down. She had a wonderful way with Charlotte, she would help her see things clearly with reason & sense. We adored her, loved her, rspected her, we both miss her & life will never be the same again.'
The world of dogs has lost a real character, a true dog person, with an eye for a good dog, the courage to speak the truth & an instant sense that someone was stretching the truth. Honest to a fault but time for everyone who wanted to be in her company. Like her or loathe her, you could nver forget her.
Pamela leaves behind husband Patrick, daughter Kerry, son in law Mike, eldest daughter Danielle & her partner Lynton, her granddaughter Charlotte, Samii, long standing kennel manager, son Andrew, his wife Caroline & their children Sam, Jemma, Lee & Scott. Most importantly she leaves behind her legacy in the dogs that she bred & owned.'
Kerry would like to share this poem with you that she chose especially for her Mum, Pamela.
A Daughter's Promise
Every time that I smile,
Every time that I sigh,
I think of your face.
And a tear escapes my eye.
You were my world,
My inspiration and my heart,
But when you left me,
I thought I would fall apart.
You were my best friend,
My one true 'confidante',
And tha's not all you were,
You were also my Mum.
I didn't want to live without you,
But you would have wanted me to,
And if there's anyone I want to make happy,
That anyone is you,
I would have given anything to have you back,
But I know it was meant to be,
For you are still watching from up there,
And I know you are watching me.
I'll make you proud Mum,
I'm going to fulfill your wish,
You're going to see me and smile,
That's a daughter's promise.
Mums memorial 70th birthday cake thanks Tony Nevinson with handmade sugar flowers to keep forever and Toast for the tribute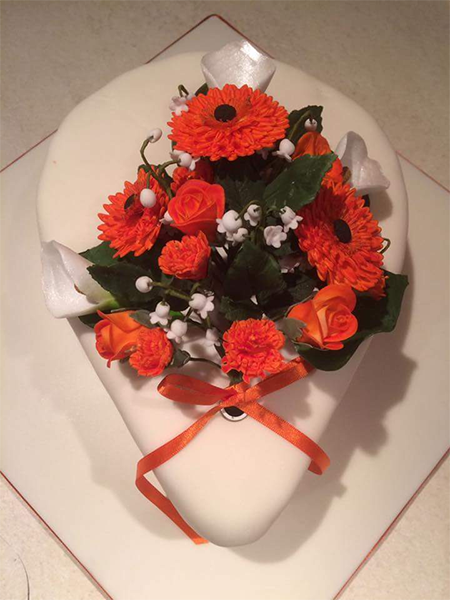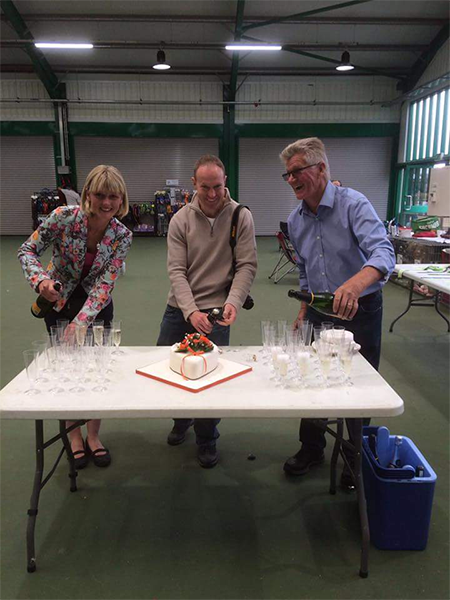 Birthday flowers tribute