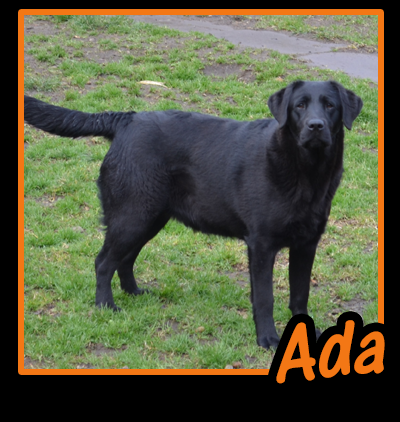 MY DETAILS
SIRE - JAYNCOURT STAR TURN AT SANDYLANDS
DAM - LAPEMA'S IZOBEL
DOB - 16/06/2014
BRED BY: PAMELA WILKINSON & KERRY JELFS
OWNED BY: KERRY JELFS
HEALTH TESTED
EYES - CLEAR
HIPS -3/3
EIC TESTED
Ada is sired by the beautiful Star from the Sandylands kennel, out of our homebred girl Izzy's final litter. Ada is the absolute image of her mother, even we have to double take sometimes! We hope that she will be as valuable to our Labrador program as her mother has been. Ada's temperament is amazing but she is not quite as laid back as her mother, quite the live wire!
We are pleased to see that she is maturing well & has an excellent breed type & confirmation that we would expect from her bloodlines. A very happy girl, Ada lives with her mother & likes nothing more than bounding around the paddocks with her.
We are so very pleased with Ada's litter, it is sad that it cannot exactly be repeated with her mother retired but we hope to use Star within our breeding program in the not too distant future.

Jayncourt Star Turn At Sandylands
Sh Ch Sandylands Wait And See
Sh Ch Rocheby Whisky Mac
Rocheby Purple Shades At Sandylands
Jayncourt Star Kisses
Sh Ch Sandylands Gad-About
Jayncourt Star-Blossom
Lapema's Izobel
Lapema's Zephyr
Bunhaven Apple Jack At Jimjoy
Lapema's India
Lapema's Kamilla
Carolian First Drop Of Rain
Lapema's Samira