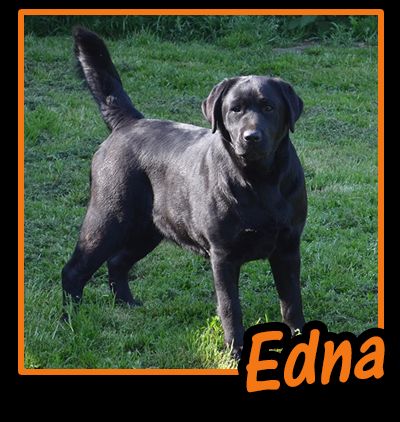 MY DETAILS
SIRE: SHCH SANDYLANDS PRESSED FOR TIME
DAM: STONMYE JUST FOR AIMEE
DOB: 30/10/2012
BRED BY: PAMELA WILKINSON & KERRY JELFS
OWNED BY: KERRY JELFS
HEALTH TESTED
HIPS: 6/4 = 10
EYES: CLEAR
EIC: TESTED

Edna is a stunning black girl bred by our friends at Justami Labradors & Alaskan Malamutes, an interesting outcross for us on her mothers side with some bloodlines that we don't already have within our breeding program. Sired the fabulous Timmy (ShCh Sandylands Pressed For Time) Edna sure has inherited the great bone & head that is present within both her Sire & Dam, Edna definitely carries her Sire's substance & tail.
We are very pleased with the soft happy temperament that Edna holds. As mad as a box of frogs & twice as enthusiastic as the regular, she is quite the character!!! Although calm with her babies, she seems to know.
From Edna's first litter we exported a yellow female (Breeze) & black male (Cedric) to the USA for show campaigning, we hope to hear new of their puppy career later in 2015.

Sh Ch Sandylands Pressed For Time
Sh Ch Rockabee Blue Peter Of Sandylands
Rocheby Navy Blue
Sandylands Gypsy Of Rockabee
Rocheby Purple Shades Of Sandylands
Sh Ch Tapeatom Gadding Around at Sandylands
Sh Ch Rocheby Powder Blue
Stonmye Just For Aimee
Rewari Exstorm trooper With Stonmye
Sh Ch Castleduff Radical Jack
Rewari Shinning On
Oakhouse Objet De Art
Oakhouse Over The Sea
Take My Breath Away To Oakhouse
Edna & her last litter 2017