The last show for us before Christmas held at the NEC was the LKA on the 14th. Rio the red takes 3rd place in Limit bitch.
At Ashbourne Open on the 28th Rio is placed 3rd in her Open class under judge Keith Rushfirth.

A nice chilled Open show on 4th under judge Ryan Lack at Treharris with some great results. Castiel is placed 1st in Open, then takes BEST OF BREED & WORKING GROUP 4 under group judge Marion Sargent. Rio is also placed RES in Open.
An absolutely amazing day for Lapema at SWKA Champ show. Firstly, our homebred boy Castiel is awarded 2nd in Open dog & then takes the RESERVE DOG CC!!!!! Then our red girl sired by our own Torres & bred by Justami Malamutes, wins Limit bitch & the goes on to be awarded the BITCH CC!!!!!!!!!!! We are so thrilled, such a strong line up for both our kids today. Huge thanks to breed judge today Helen Burke.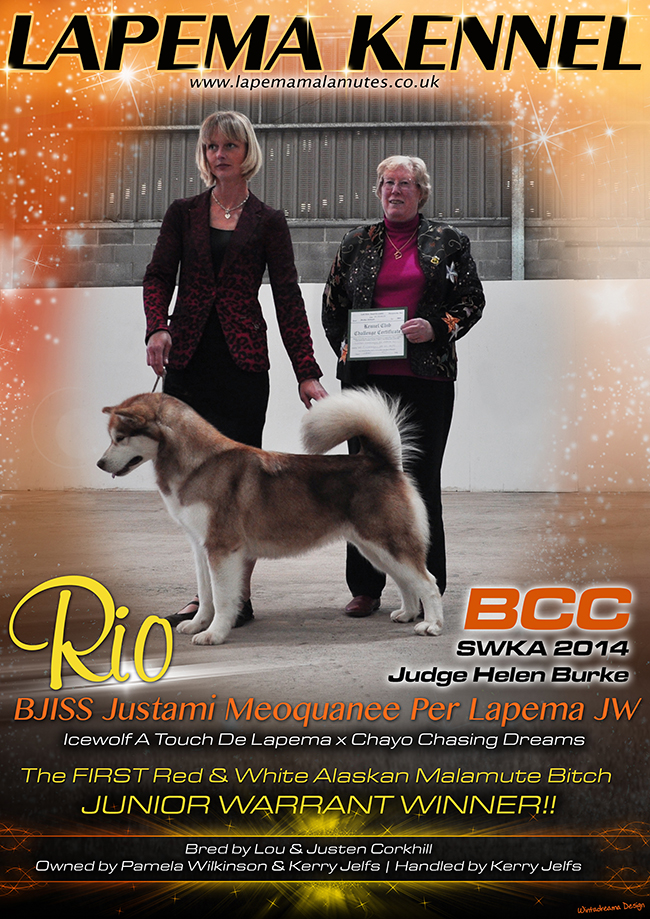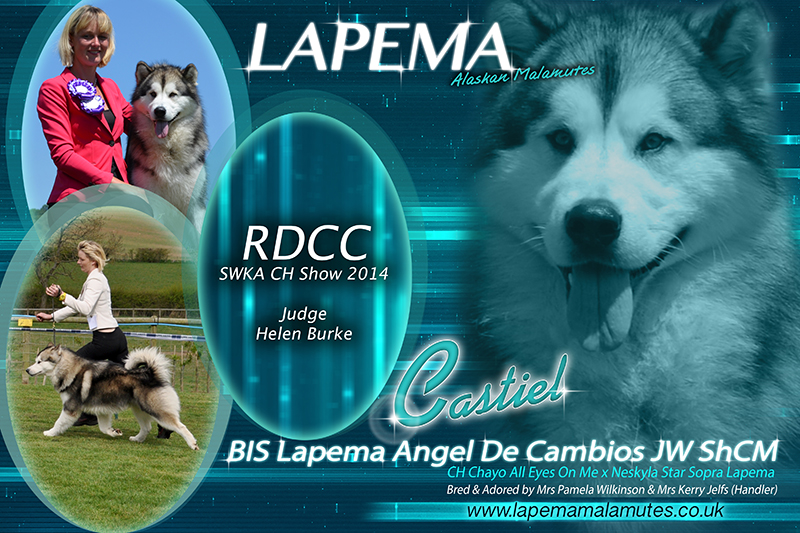 At Richmond on the 6th both Castiel & Riodo the team proud by taking 2nd place in their classes under judge Liz Dunhill.
A long trek to Darlington Champ show on the 13th see's our boy Castiel be placed VHC in Open dog. Kerry also showed Eve Dunk's Lumen (Castiel & Cielo's litter sister) to be awarded 2nd place in Open bitch & the RESERVE BITCH CC!!!! The second time this judge, Simon Luxmoore, has awarded Lumen the RCC.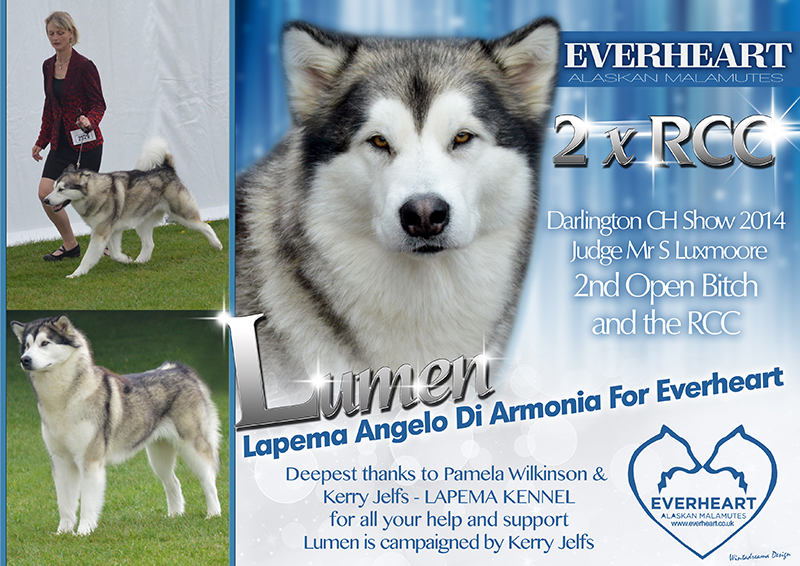 Our breed club champ show was held on the 20th where we held a small party for Pamela's birthday. Topping off the day we see out Rio placed RES in Limit bitch & Castiel shortlisted in Open Dog.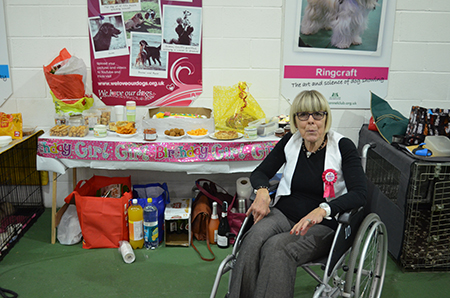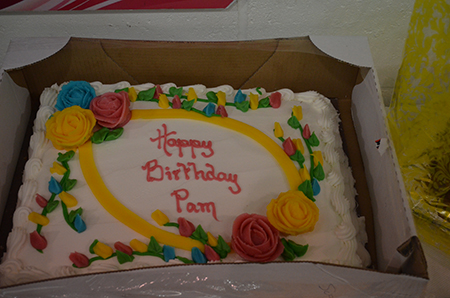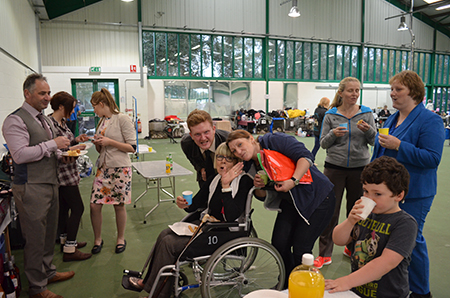 On the 16th we travelled to Wales for the Welsh Kennel Club Champ show. Our red Rio was placed 2nd in a large Post Graduate bitch class under judge Bob Gregory.
On the 25th we attended Leicester City Open show under breed specialist Simon Molloy who awarded Castiel 1st in Open & BEST OF BREED!!
City Of Birmingham Champ show was held on the 30th with breed judge Mary Deats. Our Rio took RES out of a very large & strong Limit bitch class, her first time in this class after winning herself out of Post Graduate, shame her debut was when she was bald but the girl did good! Kerry handled Linda & Seth's Lapema bred girl who at almost 7 years old is placed 2nd in Open bitch & then challenges to be awarded the RESERVE BITCH CC!! The second time this judge has awarded this girl the RCC.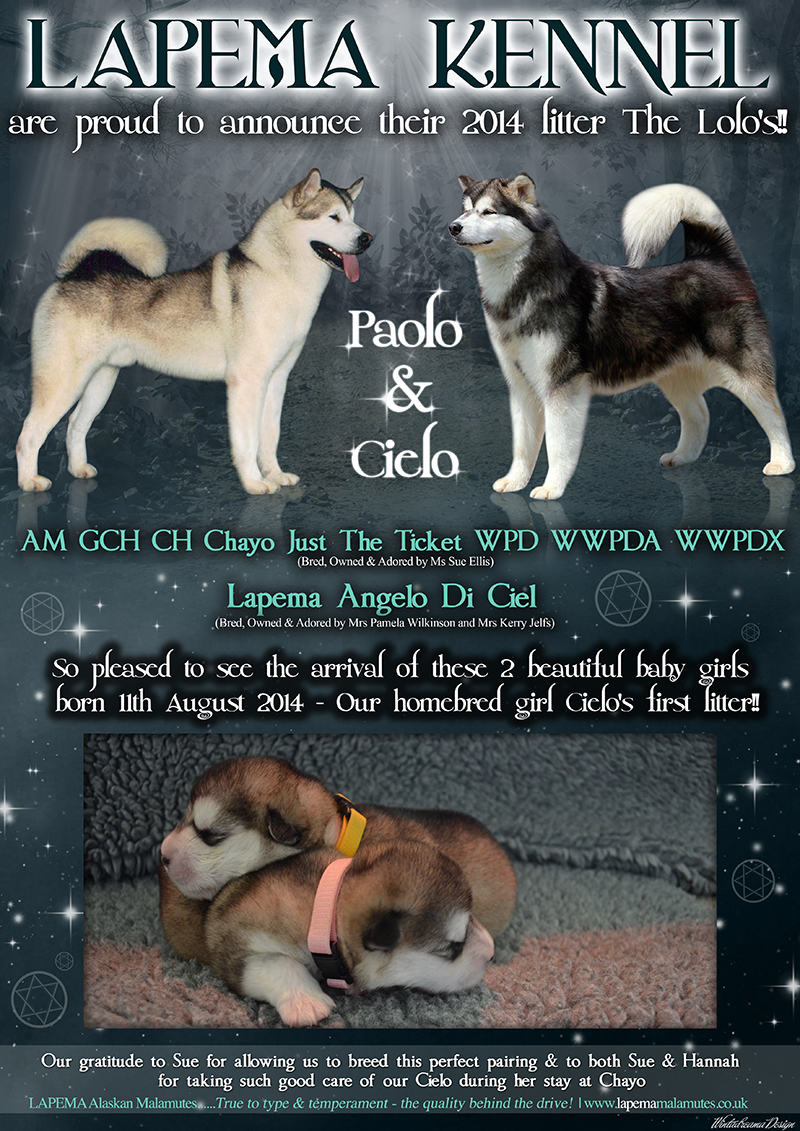 On the 4th it was Paignton Champ Show under judge Stuart Mallard. Our boy 'Castiel' again seemed to be on a roll winning a very strong Limit Dog class! 'Rio' was placed 2nd in her Post Graduate Bitch class.

At East Of England Champ Show on the 5th under judge David Cavill our 'Rio yet again wins her Post Graduate Bitch class seeing her win herself out of this class & moving up into Limit from September - a great achievement for our lovely red girl, we are super proud of her results in the showring, she is a very special girl!!!
It was all the 2nd's at NW&PBs Champ Show on the 12th for team Lapema under judge Mr Albert Wight seeing 'Castiel', 'Rio' & 'Lumen' taking 2nd place spot in all their classes.
The 13th was the AMCUK breed club Open Show with judge Averil Cawthera-Purdy. 'Castiel' is placed 3rd in Limit Dog & 'Rio' wins Post Graduate Bitch & ultimately RESERVE BEST BITCH!!!!! Thrilled to bits!!!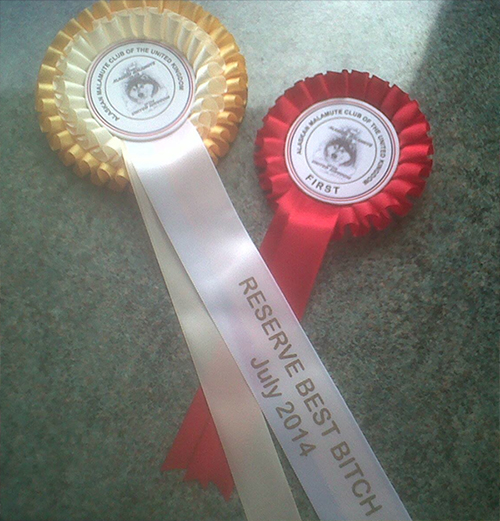 Leeds Champ Show on the 26th was a day to remember for team Lapema - our home bred boy 'Castiel' was placed 2nd in his first ever Open Dog class & then was awarded the RESERVE DOG CHALLENGE CERTIFICATE!!!!!!!!!!!!!!!!!!! Absolutely over the moon is an understatement!!! This sees 3 out of our Senna's first litter to be awarded a RCC! Then to top the day off nicely 'Rio' wins yet another Post Graduate Bitch class! Huge gratitude to our judge on the day top all rounder Jeff Horswell

Another close one for us on the 7th, Three Counties held at Malvern under breed specialist judge Mr John Phillips (Monikoona). Our boy 'Castiel' was placed 3rd in Limit Dog & 'Rio' was placed 3rd in her Post Grad Bitch class. 'Reina' was also placed VHC in Open Bitch. A great day was held by all seeing us all having a lovely celebration for Kerry's 35th birthday with a Mexican theme!!!!! So lovely to celebrate with all our friends.
We made the huge trek to Border Union Champ Show on the 14th held at Kelso on the borders of Scotland & had some great results under judge Dolores Montgomery, our 'Castiel' was placed 2nd in his Limit Dog class & then called back in to challenge for the Res CC after the winner of the class won the CC. 'Rio' took RES in her Post Graduate Bitch class & Kerry also handled 'Lumen' for Eve seeing her get placed 2nd in her Limit Bitch class.
On the 22nd it was Blackpool Champ Show under judge Mr Frank Kane. Our 'Castiel' was placed 3rd in Limit Dog. 'Rio' was placed RES in Post Grad Bitch & Eve Dunk's 'Lumen' was placed
The final show for this month was Windsor on the 28th under judge Lyn Salt. 'Castiel' was placed in another strong Limit Dog class with RES & his little red buddy 'Rio' won a very strong Post Graduate Bitch class.

Kerry had a fabulous day judging the males at the AMCUK club Open Show on the 3rd with a great entry of 57 males. Her Best Dog was found in Shomont Raisin Cain bred & owned by Susan Thompson, this boy was also awarded Best In Show after Kerry & her co-judge Kimberley Jebson (Austmans) managed to agree on all the final placings for the top honours. Res Best Dog was Kirsti Burgess' Jaydonspire True Heart. Best Junior Dog was Tina Dolan's Siskara Spy Who Loved Me JW. Best Puppy Dog & later Best Puppy In Show was John Phillips' Monikoona Most Wanted. Huge thanks to the committee for laying on such a fantastic show & making us feel so welcome.
At Birmingham National on the 11th by a total mishap on the entry form our 'Rio' ended up being entered in Limit Bitch by mistake, although we were thrilled to see judge Christina Chapman placed her 2nd in a very good class of females. 'Castiel' was placed a very respectable RES in his Limit Dog class.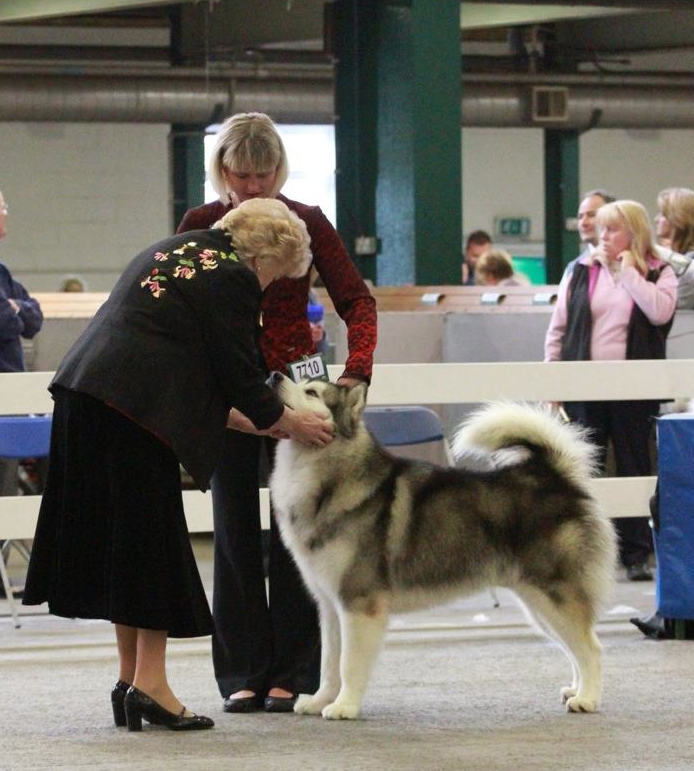 On the 25th we attended Bath Champ Show under judge Keith Baldwin, our little red Torres daughter 'Rio' won her Post Grad Bitch class & her best buddy 'Castiel' was placed RES in Limit Dog.
We travelled to WELKS Champ Show on the 25th, a nice close one for us held at Malvern. We were very pleased to see our Limit male 'Castiel' take 2nd place in a very strong Limit Dog class, not only was the class very large numerically but the quality was strong amongst the exhibits. Also, our red girl 'Rio' was placed 3rd in Post Grad Bitch class. I also handled Lapema girl 'Lumen' for owner Eve Dunk, pleased to see her also take a 3rd placing under judge Mr Anthony Rees (Amical)

On the 23rd at Retford Open Show our homebred boy 'Castiel' takes BEST OF BREED out of a very strong entry of 20plus Malamutes! Huge thanks to breed specialist judge on the day Mrs Deborah Prout (Kessaku)
Lapema are proud to include the AMWA backpacking titles for Rafa BVIS/BVISS/RBIS Gwinner Lapema Star De Jungla Negra SHCM, his daughter 'Spirit' has her copper title so now known as Snobruk Spirit In The Skye AWPD(C)and his son litter sibling to 'Spirit' is 'Hunter' who gained his copper, bronze and silver title plus his WDP so now know as RBPISS Snobruk Spirit Of Fire JW AWPD (C) (B) (S) WPD.......well done to all concerned with gaining this awards
On the 23rd at Retford Open show under breed specialist judge Mrs Deborah Prout (Kessaku) our homebred 'Castiel' took BEST OF BREED out of a super entry of 23 dogs - our gratitude as always to our judge on the day.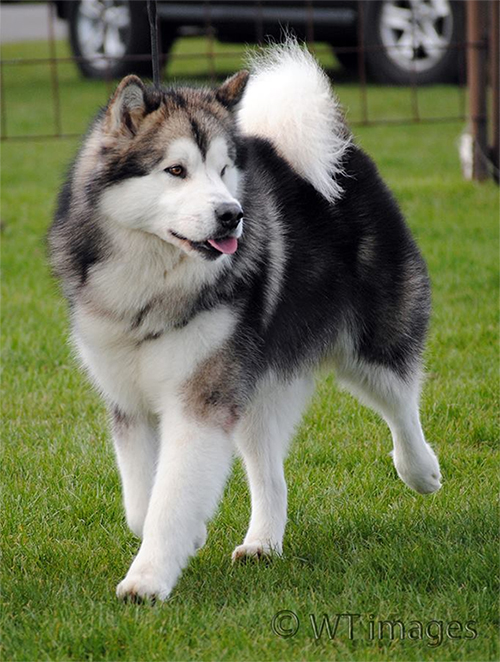 'Castiel BOB Retford Open Show March 2014' (Photo by Wendy Thompson)
~
CRUFTS took place as usual at the NEC on the 5th, for us this year Crufts came & went, we were very very proud to all our own furkids & those bred by us to qualify for this huge event & doing us proud on the day on the green carpet. Lapema thank our show team for putting such an effort in with their dogs :)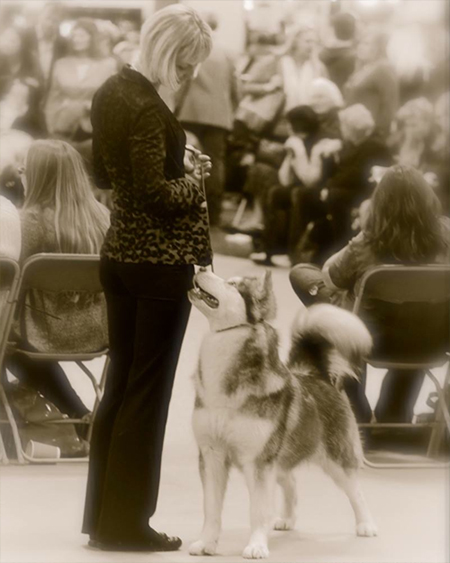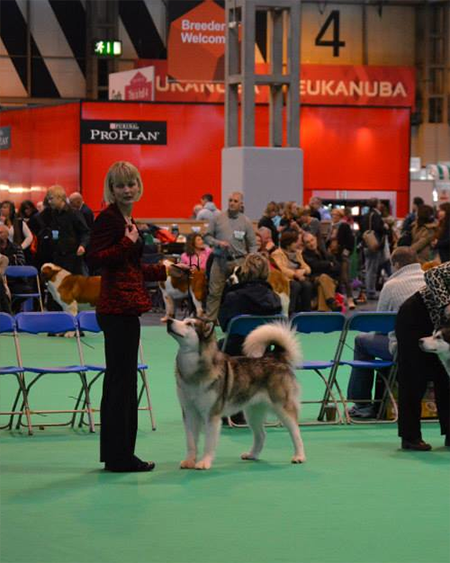 (Photo left by Lee Baker / photo right by Eve Dunk)

On the 23rd we travelled to Wales to support the Alaskan Malamute classes at Llynfi Valley Open show & were thrilled to see our homebred boy take BEST OF BREED here for 2 years running!!!! 'Castiel' was also awarded WORKING GROUP 2 out of a huge Working Group of 12 strong contenders. Huge gratitude to breed & group judge Mrs Del Richards.
"1st Open, BOB & WG2, BIS Lapema Angel De Cambios JW ShCM, 2year old male who is also a relative baby for the breed, but gave a very typical & pleasing outline, coat of excellent weather resistant quality, excellent topline & tail, strongly boned but with enough length of leg to give him the desired ratio to chest depth, powerful head with good width of skull, well set ears though had a tendency to hold them out to the side when relaxed but giving a typical forward slant when alert, feet of great depth & made right for the activities expected for this breed, moved in style."

The first Champ show of the season was Boston held on the 9th with judge Melvyn Hardy saw some more good results for us. Our baby red 'Rio' again takes pole position in Post Graduate Bitch, Eve & Matt Dunks Lapema girly 'Lumen', after her hugely successful 2013, starts off the year in style after a 5month break from the show ring with a 3rd in a very nice Limit Bitch class & again another VHC for Linda & Seth Jerman's Lapema bred girl 'Reina', all dogs handled today by Kerry.
~
On the 24th we headed to Manchester Champ show under judge Richard Kinsey, Matt & Eve's girl took RES in Limt Bitch handled by Kerry.