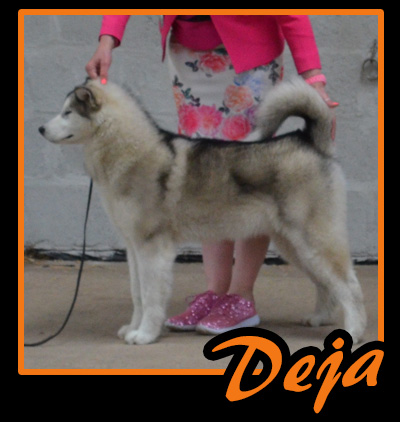 MY DETAILS
SIRE: CH CHAYO FORMULA ONE
DAM: BPIS LAPEMA NINO VUDU JW
DOB: 27-10-2017
BRED BY: KERRY JELFS
OWNED BY: KERRY JELFS
Deja is a perfect double of her dam Voodoo, hence the name Deja 'Voo'!! She was from Voodoo's first litter & although it was a small litter, the quality was amazing. Her kennel name 'Gia Visto' means already seen.
Deja has a wonderful happy & carefree temperament, making her a joy to live with but seeing her typical Malamute stubborn streak sometimes just gives her the huge character that these dogs must have, it's a breed trait & she definitely has it!
Deja is particularly fond of destroying toys & teasing the other dogs, like her mother & half sister Ouija, she has alot to say for herself & can be just a touch too chatty!!
This combination of bloodlines was chosen by Mum when Voodoo & Jenson were just babies themselves. I just hope that Mum is pleased with the fact that we all decided to continue on with her choice of breeding & thanks to the stud owner for allowing us to use her boy. Jenson was the DCC winner at Crufts 2018.
We look forward to introducing Deja into our show team & seeing what 2018 can bring for her results wise.





CRUFTS QUALIFIED 2019



BPIB
BEST AVNSC PUPPY
WPG1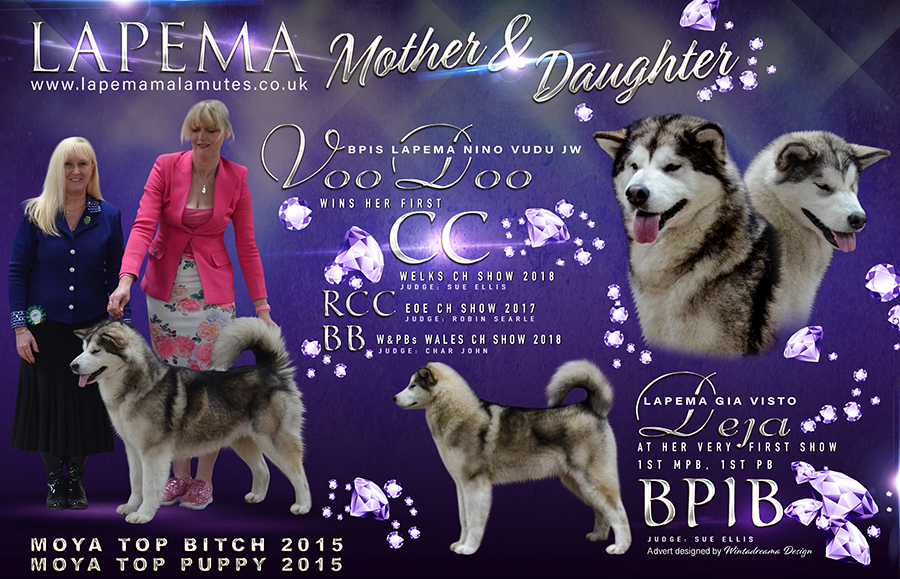 CH CHAYO FORMULA ONE DCC CRUFTS 18
AM / CAN CH STORM KLOUD'S AALL SYSTEMS GO WTD, WWPDX
AM CH STORM KLOUD'S WWON
N'GREAT TASTE WTDX, WWPDX
AM / IT / FR / INT CH STORM KLOUDS'S
CHELA OF KAULEE ROM
CH / AM / CRO / INT CH
CHAYO PURE CRYSTAL
CH / INT CH CHAYO BLUE THUNDER
WINNER'07
CH CHAYO ELISE
BPIS Lapema Nino Vudu JW
AM GCH CH Chayo Just The Ticket WPD WWPD WWPDA WWPDX
MULTI CH Sno Quest's Limited Edition
CH & INT CH Chayo Forget Me Not European Winner '09
Lapema Angelo Di Ciel

CH Chayo All Eyes On Me

Neskyla Star Sopra Lapema