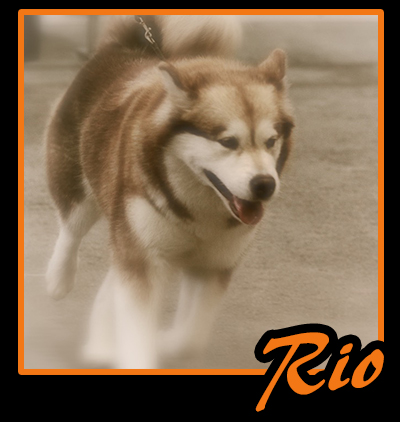 MY DETAILS
SIRE: ICEWOLF A TOUCH DE LAPEMA
DAM: BPISS CHAYO CHASING DREAMS
DOB: 22-04-12
BRED BY: PAMELA WILKINSON & KERRY JELFS
OWNED BY: KERRY JELFS
HEALTH TESTED
HIPS: 4/5
AM PN: TESTED
We are very proud to announce two very special moment at Lapema kennels, the first being the success of our Torres' first ever litter & the second being 'Rio' our first ever red Alaskan Malamute to join our show team!!!!!! We are thrilled with the quality of Rio combining some great lines with amazing top show winning dogs in her pedigree.
She is a very out going & confident pup with an amazing construction to match her personality - can see us having some fun with this little girl. Thanks to our good friends Lou & Justen at Justami for allowing us to add little Rio to our fur family.
Mike will be mostly campaigning Rio who will start her career late 2012. Her kennel name translates to read 'Justami Wears Red for Lapema' - lets hope that this is a good omen for her future!




CRUFTS QUALIFIED FOR LIFE




STUDBOOK NUMBER



JUNIOR WARRANT






SHOW CERTIFICATE OF MERIT






BEST JUNIOR IN SHOW SPECIALITY SHOW



CC
RCC
11 X BOB
3 X RBOB
2 X BB
3 X WG2
2 X WG3
2 X WG4
7 X BPIB
3 X WPG2
MOYA
3RD TOP BITCH 2014
5TH TOP MALAMUTE 2014
2ND TOP MALAMUTE 2013
2ND TOP BITCH 2013
5TH TOP BROOD 2016
9TH TOP BITCH 2016
18TH TOP MALAMUTE OVERALL 2016
7TH TOP BROOD 2017
13TH TOP BITCH 2017

Icewolf A Touch De Lapema
Gwinner Lapema Star De Jungla Negra
CH INT CH Royalstar Del Biagio
CH INT CH Give Me A Star De Jungla Negra
Misspittypat Del Biagio For Icewolf
CH INT CH Royalstar Del Biagio
CH Gwykon De Jungla Negra
BPISS Chayo Chasing Dreams
Gwinner Lapema Star De Jungla Negra
CH INT CH Royalstar Del Biagio
CH INT CH Give Me Star De Jungla Negra
Chayo Tula Shaka
CH INT CH Chayo Blue Thunder
Shepardsway Canadian Wish