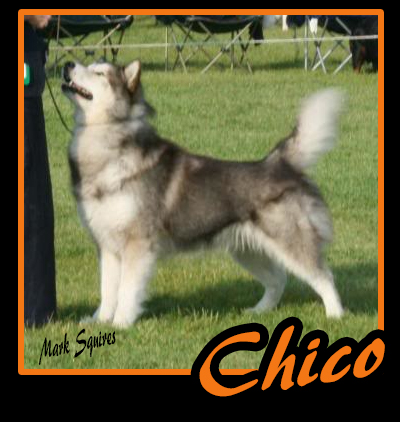 MY DETAILS
SIRE: GUISKY DE JUNGLA NEGRA
DAM: GORKEANE DE JUNGLA NEGRA
DATE OF BIRTH: 17/07/2003
CO OWNED BY: PAMELA WILKINSON & KERRY JELFS

HEALTH TESTED
HIPS: 4 / 3
EYES: CLEAR
Chico to all intents and purposes should be considered an import. His mother is Fibi and his father is Guisky, he was one of the puppies born from the litter that Fibi was pregnant with when she arrived in the UK, but due to him being born in this country he is classed as English.
Chico is very sweet natured but can be wary of strangers getting over familiar with him. He likes to get to know people in his own time and to suss them out before he allows cuddles. Once you have been accepted by Chico you have a friend for life and one cuddle is never enough for him! He loves the contact of those closest to him. He has a naughty attitude but carries no malice.
Chico has only been shown consistently since 2006 as he wasn't overly keen on the whole showing procedure. As with everything Chico decided to do it in his own time but with allot of patience and training our persistence has paid off and he has proved himself to be a strong contender in the show ring and now loves his day trips.





CRUFTS QUALIFIED FOR LIFE




STUDBOOK NUMBER

2 X RESERVE BEST DOG
MULTIPLE CHAMP SHOW PLACING'S

Guisky De Jungla Negra
CH Zulem Remember To Caho's
CH Axel Del Biagio
CH Ssua De Zulem
CH Praise Del Biagio
CH & INT CH Royalstar Del Biagio
CH Jassy Del Biagio
Gorkeane De Jungla Negra
Gorka De Jungla Negra
Raisa Du Quintal
Rocky De Soto De Riofrio
Gwendy De Jungla Negra
Gloria De Jungla Negra
CH Camelot Do Val Do Miuno