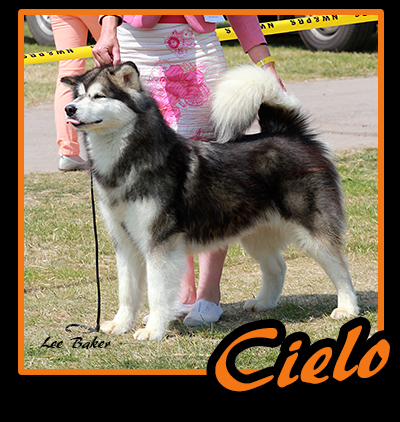 MY DETAILS
SIRE: CH CHAYO ALL EYES ON ME
DAM: NESKYLA STAR SOPRA LAPEMA
DOB: 10-11-11
BRED BY: PAMELA WILKINSON & KERRY JELFS
OWNED BY: KERRY JELFS
HEALTH TESTED
EYES: TESTED CLEAR
HIPS: 4/3
AM PN: TESTED
Cielo is a very attractive girl from our Senna's first litter. Four girls were born each with very different attribrutes. We chose to keep this female in particular as she shows great similarities to her grandfather, our very own foundation male Rafa. Her sire is Ch. Chayo All Eyes On Me 'Enzo', who was chosen as a stud for his qualities that we were sure would compliment our girl.
The pedigree's of both Senna & Enzo are very compatible & we are happy to see that it has produced the goods for our first Lapema homebred outcross. With the temperaments on both sides of this girls pedigree being absolutely impecable we are sure that Cielo will be a pleasure to have as part of our team.
By everyone as a very small puppy Cielo was always known as 'the thinker' she never rushes in, she waits, watches & assesses before making her move. She has the most amazing character as does her brother. We are very much looking forward to seeing how Cielo developes in the future.





CRUFTS QUALIFIED FOR LIFE




STUDBOOK NUMBER

2 x RCC
RESERVE BEST BITCH
BPIB
MULTIPLE CHAMP SHOW PLACING'S
MOYA
2ND TOP BROOD 2015
18TH TOP BITCH 2015
2ND TOP PUPPY 2015
TOP PUPPY BITCH 2012
4TH TOP BROOD 2016
20TH TOP BITCH 2016
5TH TOP BROOD BITCH 2017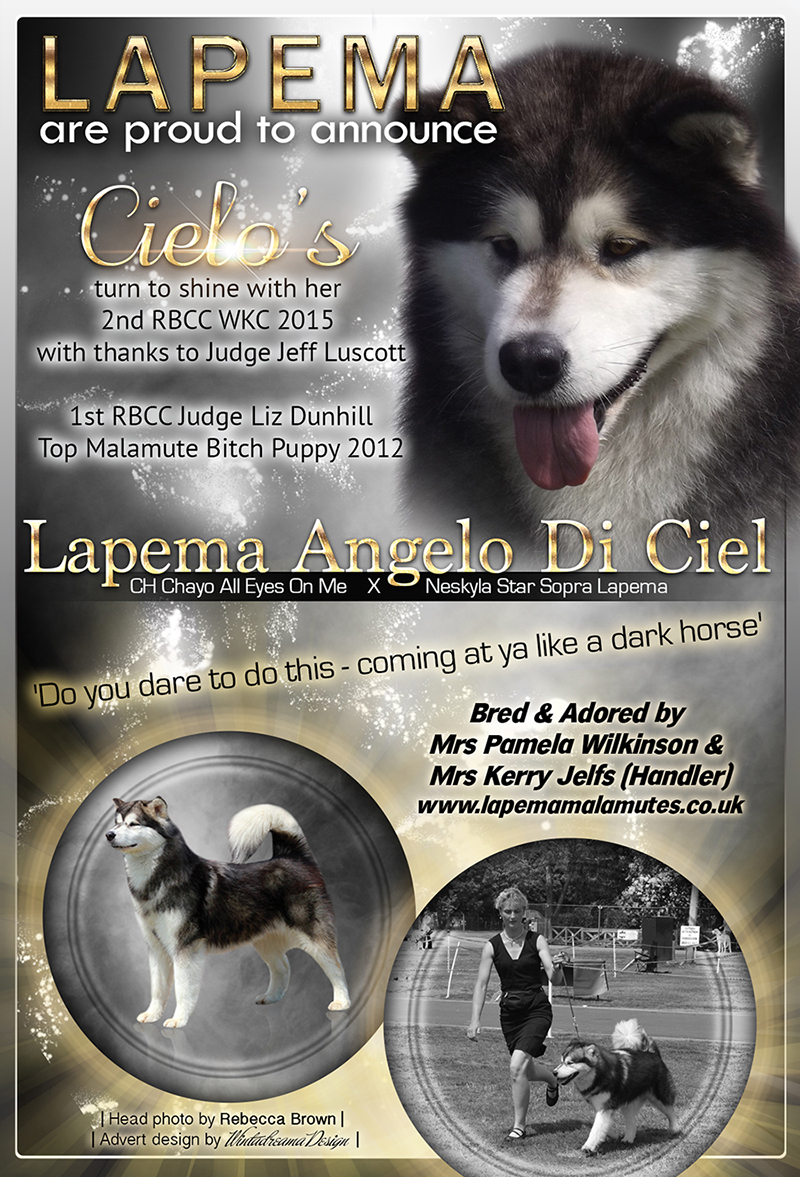 CH Chayo All Eyes On Me
MULTI CH Sno Quest's Limited Edition
AM CH Wind's Fury Jacob Trailblazer ROM
AM CH Sno Quest's Worthmor Than Gold
CH & INT CH Chayo Forget Me Not European Winner '09
CH & INT CH Chayo Blue Thunder
AM CH Wolfwind's Lilacs And Lavender
Neskyla Star Sopra Lapema
Gwinner Lapema Star De Jungle Negra  (IMP ESP)
CH & INT CH Royalstar Del Biagio
CH & INT CH Give-Me-A-Star de Jungla
Snowallen Granite Lupine
Vagabond Of Antartic Highlands at Snowallen (Imp Fr)
Bassbarr Keep Hoping Of Snowallen