"Run Free & Sleep Tight gorgeous Fibi - 31/01/02 – 13/11/11'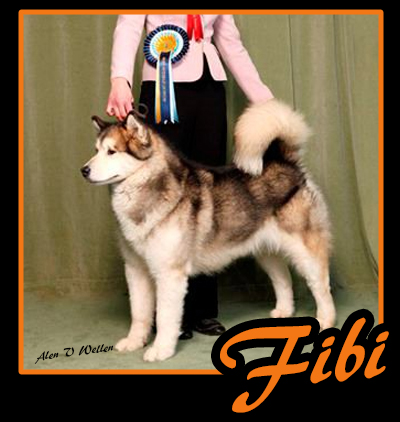 MY DETAILS
SIRE: GORKA DE JUNGLA NEGRA
DAM: GWENDY DE JUNGLA NEGRA
DOB: 31/01/02
CO OWNED BY: PAMELA WILKINSON & KERRY JELFS
HEALTH TESTED
HIPS: GRADE A EXCELLENT (EUROPE)
EYES: CLEAR
Fibi was our 1st import from the Jungla Negra Kennels in Spain to be imported to the UK. She was imported as our foundation bitch in June 2003. She was mated in Spain to Ch. Guisky De Jungla Negra prior to us bringing her to the UK so we traveled by car to collect her from Zaragoza. From this litter she produced Chico and Preci to carry the Guisky line into our future breeding program.
Fibi had a late start in the show ring and her showing career didn't begin until she attended her first show, Driffield CS in October 2005 at 4 years 9 months of age. It was here that judge, breed specialist, Mr Walt Howarth saw her potential and awarded her 2nd in a strong limit bitch class. Although she was awarded a Reserve Best In Show at an all breeds show in Zaragoza at just 13 months, her showing had also been very sparce in Spain. This makes us believe she was actually born to be shown, she just needed the correct handling to bring out the best in her. Her show results speak for themselves and show her true show dog qualities.
Fibi is a very strong bitch both in stature and personality. She may not have the glamour of some but still retains femininity, she is an outstanding Malamute in our eyes. Her character is fun and playful with a snooty edge that we just love!
Fibi and Rafa carry a special bond as they always lived together in Spain and Fibi was exstactic to see Rafa when he was imported the following year.




CRUFTS QUALIFIED FOR LIFE




STUDBOOK NUMBER



BEST VETERAN BITCH CRUFTS 2010 & 2011






MOYA TOP VETERAN 2009 & 2010






MOYA TOP IMPORT BITCH 2011






MOYA TOP IMPORT BITCH 2010



CC
5 X RES CC
10 X BEST BITCH
9 X RESERVE BEST BITCH
3 X BEST OF BREED
RESERVE BEST OF BREED
2 X BVIS
RBVISS
RBIS
WG2
2 X WG4
MULTIPLE CHAMP SHOW PLACING'S
AT JUST 18 MONTHS FIBI WINS RESERVE BEST IN SHOW AT AN ALL BREED SHOW IN ZARRAGOZA, SPAIN

Gorka De Jungla Negra
Raisa Du Quintal
Gandalf El Negro
After Shave
Rocky De Soto De Riofrio
CH StormKlouds Legend Continues
Uka
Gwendy De Jungla Negra
CH Camelot Do Val Do Muino
Amadog Heart The Brum
Betania Do Val Do Muino
CH Gloria De Jungla Negra
Nanuk
Korrekaminos Del Valle Del Baztan