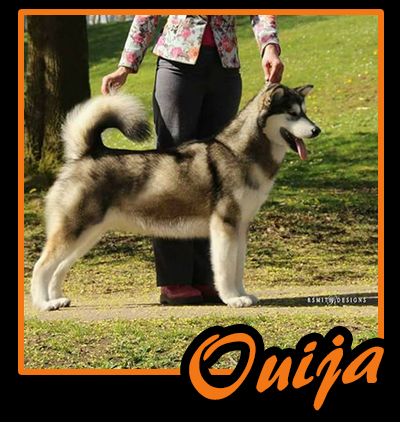 SIRE: Multi BISS RBISS CH Hawkeye Polarni Usvit Within Dreamwolves WPD WPDA WTD AWPD C B S G AWTD C S SP (Imp Cze)
DAM: Lapema Angelo Di Ciel
DOB: 14-01-16
We are very happy to have 'Ouija' join our team. To produce this litter, we combined some of what we believe to be the best bloodlines in world. On paper the breeding looked to make for a stunning outcome carrying some quality top winning dogs from world renowned kennels & we are thrilled to see that the quality throughout the whole litter was what we had hoped. Ouija carries some lovely characteristics from both her parents, from her dam Cielo she has inherited an amazing love for people & a very outgoing character with a very sweet but very stubborn streak - this is also found within her half sister Voodoo's personality & it is a very nice character to have within such a strong dog in body & mind. From her sire Cochise she displays a self assured persona seeing her being very laid back, happy in her own company, obedient & open to instruction which she grasps very easily, it can take some time to get there with new things though as she does most certainly carry Cielo's stubborn gene very strongly!!! This is why we feel that her kennel name, which translates into Ouija Board is most apt as Ouija most definitely has plenty of spirit!! We hope that Ouija following in the very successful pawprints of her fellow team members & family, we look forward to working with her.





Lifetime Crufts Qualification & Stud Book Number







1 x BPIS







1 x RBIS



BOB x 5
BPIB x 4
RBOB x 1
WPG1 x 1
WPG3 x 1
WPG4 x 1
WG1 x 2
WG2 x 1
AMCUK MOYA 2016
2nd Top Puppy (Top Bitch Puppy) / 16th Top Bitch

Click here to see my full results


Multi BISS RBISS CH Hawkeye Polarni Usvit Within Dreamwolves WPD WPDA WTD AWPD C B S G AWTD C S SP (Imp Cze)
UK /PL CH Lord Of The rings Appalchian
CH-R-H-EST-LT Windrifts This Is The Time
CH Pl Fair Play Appalachian
Mutli CH Aura Polarni usvit
CH Brad Pitt Del Lago Degli Orsi
CH PL Delightful Anny Inditarod
Lapema Angelo Di Ciel
CH Chayo All Eyes On Me
MULTI CH Sno Quest's Limited Edition
CH & INT CH Chayo Forget Me Not European Winner '09
Neskyla Star Sopra Lapema
Gwinner Lapema Star De Jungle Negra  (IMP ESP)
Snowallen Granite Lupine